Word documents stored on OneDrive and SharePoint can be edited by more than one persons simultaneously. This is a very useful and powerful feature. (Read this article for details). Each person can edit in different places. Temporarily the current paragraph is locked for others. When the document is saved, the paragraph is automatically unlocked so that others can work on it.
The Need
In some cases, you do NOT want anybody to edit a particular area in the document. Whether you are currently editing or not, you want to block others. This is required when you are writing some critical part of the document or waiting for some inputs and you don't want interference from others. At the same time, you don't want to block the entire document.
The Solution
In this case, what do you do? Simple… Select the area which you want to block, right click and choose Block Authors.
The blocked area will have a dotted border on the left side to remind you visually that you have locked that area. Others editing the document on their own PC or devices will see this as locked area and no editing is possible (including formatting changes).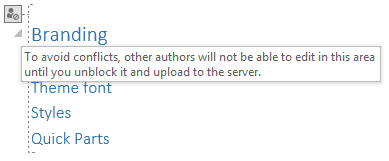 To unlock, right click on that icon and choose the Block Authors option again. It is a toggle button (On/Off). You must save the file to enforce the locking as well as unlocking. Remember that it does not HIDE the content, it just makes it read-only.
Multiple areas can be blocked if required. It is possible to unblock areas one by one. In order to unblock ALL locked areas, open the Review menu and choose the Release All of My Blocked Areas option.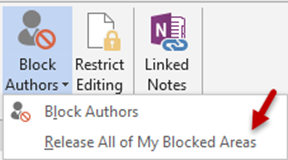 Block Authors feature is available only with Word. There is another feature which you should know about: Control who can edit what in Word.
***