The Need
Let us say you have 250 files in a folder and you only want to see CSV files. Naturally, we will use SORT by type. But that will not help you. Because even after sorting, you still see all 250 files. The files will be arranged in alphabetical order. You still have to scroll to find the area where the desired files are.
The Solution
The solution is simpler than you think. You need to FILTER rather than sort the files. And the solution is right there in the Type header. Open that dropdown and filter by type.
It is very smart. Windows goes through all the files in the current folder and builds a list of all file types. You can then select the one you want. Now it FILTERS only those files. So we see a subset of files – only those you need.
Simple and Effective. Of course this dropdown exists for size, date and all other columns. Try it out and see how smart and useful it is.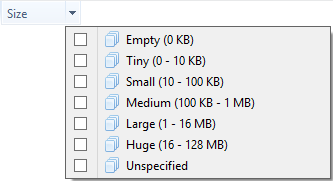 Enjoy!