Excel 2013 Professional edition contains two very powerful add-ins – Power Pivot and Power View.
Unfortunately, most users who  need these features do not even see these in their ribbon. Activate them NOW!

Estimated reading time 6 min
What is Power Pivot and Power View
Power Pivot is a new way to store millions of rows of data and analyze it very fast right within Excel. It adds a fast database on top of Excel. It also provides a large number of new functions which are extremely useful for business analysis.
Power View is a method of creating visual, interactive dashboards from available data. It is somewhat like Pivot table, but it is easier to build and work with. It is NOT a substitute to Pivot Table but an adjunct.
Power Pivot and Power View will provide you with additional insights about the SAME DATA which you may be missing today. It gives you more business opportunities to take proactive action and improve future outcomes by learning more and more information about the past.
The problem
You will laugh at the problem. The problem is that almost ALL users who have these features in their Excel will NEVER even see them – leave alone using them!
Why does this happen? Because by default, these features need to be enabled.
The IT TEAM which prepares the standard installation usually does NOT enable these features. Let us not go into WHY they don't do it
Here is the solution.
Check Excel version first
First of all you must make sure that you have the right version of Excel. Excel 2013 Professional is required. Alternatively, if you have installed Excel from Office 365 subscription, you will also have these features.
How to check the version? File – Account – About Excel shows the version.

Activate (enable) Power Pivot and Power View
Open File – Options – Add-ins section.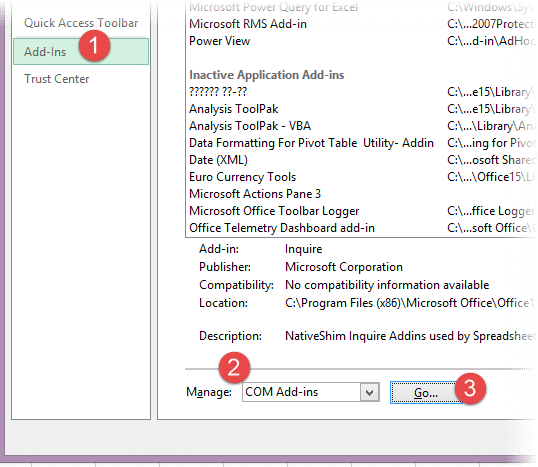 At the bottom part of the dialog, open the Manage dropdown and choose COM Add-ins. Click Go…
Now a list of available add-ins will be shown. Enable all the add-ins you see. At least enable Power Pivot, Power View and Inquire.
Inquire is a very powerful tool for analyzing, auditing and comparing spreadsheets.
How to know these options are active?
Power Pivot and Inquire tabs will be added to the ribbon.
Insert tab will show a new button called Power View.

What next?
Now we have to use these new and powerful features to our advantage. Here are some articles to get you started. I will cover more about Power Pivot and Power View in upcoming articles as well.
Working with Excel data? There is a revolution happening. Learn Power BI
Introducing Power Pivot – do you need it?
Using Power Pivot instead of VLOOKUP
Power BI introduction for developers
Auditors, Risk Managers: Excel spreadsheet analysis using the new Inquire tool
Spreadsheet Analysis using Inquire – Relationship Diagrams
Auditors, Risk Managers: The ultimate Spreadsheet Comparison tool in Excel 2013
***