Office 2013 shows fixed task panes for various operations. Earlier those dialogs used to float.
Did you know you can make the task panes also float?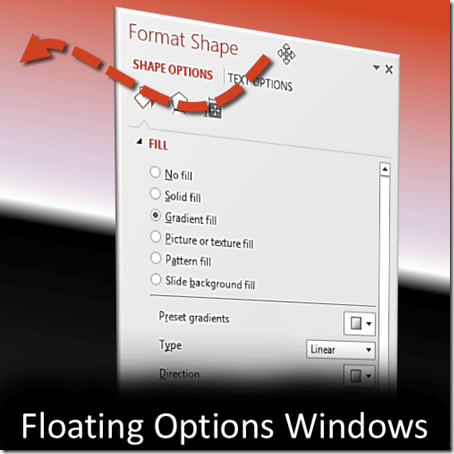 Estimated reading time 3 min.
This article applies to Office 2013.
What is a Task Pane?
Let us take a PowerPoint example. Create a new presentation and add a shape. Click on the shape and choose the Drawing Tools Tab on top.
Click on the corner arrow as shown here… what happens?
A separate window opens on the right side showing all options. This is called a task pane. Just technical jargon – basically it provides all the options for modifying the shape.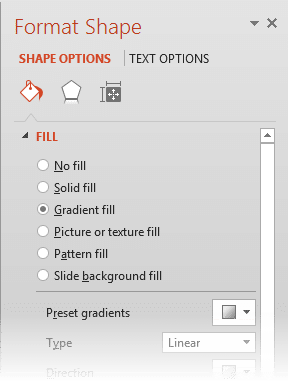 In older version of Office, this windows used to float on top of the base PowerPoint application. Now it is stuck (docked) to the right side of the screen.
How to make it float?
Some of us like the window to float so that we can move it to a more convenient place. Sometimes the fixed task panes feel like constraints.
If the screen is small, it occupies too much space. How to free up that space?
No problem. It is simple. Just take the mouse cursor to the heading of the task pane and observe the mouse cursor changing to a four headed arrow. Now drag the mouse to detach the task pane and move it to any location you want.
It remembers the last position
It is quite intelligent. The last position you used is remembered – even after a restart – which is nice. The position is remembered at PowerPoint (or whichever product you are talking about) level. It is not remembered at document level. Which is ok. Otherwise it would require too much data to be remembered and complicate programming unnecessarily.
How to put it back into place?
Just drag the heading again and take it towards the edge and it will stick to that side. This behavior is called docking. Also note that it can stick to either side – right or left. Usually right side is better because on the left side the slide thumbnails / outline view appears.
Options change automatically
Some task panes are very smart. The options change based upon whether you have selected a shape, picture or nothing. If nothing is selected, it shows Format Background (slide background). Nice. Is it not? Use it when required and be more efficient.
***