I am amazed to see how many people don't know this. Do you wish Insert menu had Insert Comment option?
Don't wish. Do it.
Create new tabs or modify existing ones. Share it with your colleagues.
Powerful, useful and delightful!
Estimated reading time 5 min
Yes, it is possible
Everything you see in the menus can be changed. The official name for menus is RIBBON, by the way.
Home, Insert, etc. are called Tabs. Each tab has many buttons.
These buttons are grouped logically.
Each Group has a name.

All of this can be modified to suit your needs.
Why would you want to change the menu structure?
Simple. Because Microsoft has designed it for the entire world. There are one billion people using Office, for all kinds of diverse things.
Each one of us is unique. So it makes sense to modify the user interface to suit your personal needs.
The problem is that most people don't even know that this is possible.
How to change the menu (ribbon)
What is possible?
Hide existing tabs
Create your own tabs and add buttons you need
Modify existing tabs and add / remove things
File menu cannot be customized.
Add Paste Special to Home Tab
Paste Special is available by opening the dropdown below the Paste button. That requires two clicks. We want to put Paste Special directly next to the Paste button for easier access. Let us see how to do this.
Right click anywhere on the ribbon and choose Customize Ribbon. A big dialog opens. Don't worry. You will get used to it. Two lists are shown.
On the left side available options are shown. Popular Commands are shown by default.
On the right side, existing tabs are shown.
First, Click on the Home Tab and open the Clipboard tab. Popular commands does not show Paste Special option. Therefore, open the Choose Commands From dropdown and select All Commands.
Now a very long list appears. We want to look for Paste Special. DO NOT try to type "P A S T E". This is not an incremental list. This list accepts only the first character for searching. Therefore, if you type PAS, for example, it will go to the area where all S commands are shown.
Now carefully type the character P. Now all the commands starting with P are shown. Press Page Down multiple times till the Paste Special command is shown. Select it and click Add.
Unfortunately, it does not work. Why not, because Microsoft does not want you to disturb existing groups and buttons. But no worries. It is possible to create a new group and then add the Paste Special command to it.
Click on New Group command, add a group. Now click Add. Close the dialog and check.
The New Group is added and Paste Special is visible.
The Group name is not looking nice. Want to change it? No problem. Go back to Customize Ribbon dialog and rename it. I have changed the name to Special. A symbol can also be selected.
The group name changes. But the symbol is not visible. What happened to it? When will it be visible?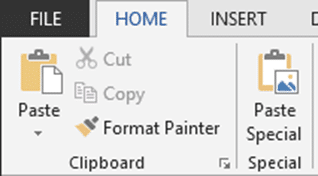 Dynamic Resizing
Ribbon is a very special thing. Depending upon the width of your monitor, it shows more or less level of details. Here is an example of how the existing Paste group is seen…
Look at how the Page Setup group is shrinking with when the display width reduces.


In the last step, the entire group itself has become an icon. That is the symbol we saw earlier. It is shown only if the entire group has to shrink.
Rename the button itself
The symbol on the actual command and the caption can also be changed. Here the button is still Paste Special. But I have changed the caption and the symbol.
Obviously this is not a good idea because you will get confused. Nobody will know that this is the Paste special command.
So why is this facility given?
Well, apart from adding existing commands, we can also add macros to the ribbon. If macro is added, it has a default symbol. If multiple macros are added, the same symbol repeats. That is why there may be a need to customize the caption and the symbol.
Creating a new tab
This is easy. Click New Tab – add a New Group and add commands into it. Rename the tab and groups as required. Here is the same Paste Special button shown in a new tab "Dr Nitin"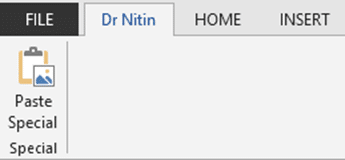 Try this out
Best way to learn it is to try it out. Create a new tab and add useful buttons to it. Check if it is useful and if it is increasing your efficiency. Play with it for a few days.
If you like it, won't your team need it?
I am sure you will like it. If you have perfected your custom tabs and options, it is very likely that your team or anyone with a similar work profile in your organization will also benefit from it.
So how we share the customization? Not a problem at all. Microsoft has already thought of it (2010 onwards). In the Customize dialog there is an Import/Export option.
Export it – a file with extension .exportedUI is created. Send the file to others and ask them to import it.
Related Articles
The top toolbar which shows Save, Undo and Redo by default can also be customized. This should be used to add common commands you use which do not have keyboard shortcuts.
Press and release the ALT key to get numeric shortcuts for these options. First nine options are nice. Read this article for details.
Increase efficiency by using or CREATING keyboard shortcuts
Quick Access Toolbar – Practical Usage
Best Practices
Commonly used buttons which do not have a default keyboard shortcut should be added to Quick Access Toolbar
First nine items in QAT should be the most common commands you use. These options will automatically get the ALT 1, 2, 3, upto 9 shortcuts.
Custom Tabs should be created for pooling all the commands related to some activity where these commands are currently scattered across different tabs.
Share customization with colleagues
***