Often presentations don't include just slides. There is some demo of some other software associated with it. How to capture the demo also as a part of the presentation? That required third-party products till now. But now, PowerPoint 2013 includes Screen Recording as a feature. Here is how to use it.
It is very simple. First set up the application which you want to record. Decide whether you want a particular area to be recorded or the full screen.
Now go to Insert – Media – Screen Recording.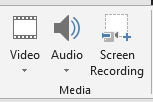 A toolbar appears showing you options. Select the area (or full screen) , choose whether to record audio and the mouse cursor. Usually the mouse cursor IS REQUIRED. Then click record. PowerPoint itself disappears and now you can record the activity on the screen.
The toolbar also disappears. Now you can record the demo video as required.
To get it back jus take the mouse cursor to the top edge of the screen. Click Stop. Now the recorded video will be inserted in the current slide.
You can use all the video features to trim the video, apply special effects and so on. You can also compress it to reduce file size (File menu – Compress).
If required, you can also record your voice narration using Record Slide show button in Slide Show menu. (Read this article for details: Creating reusable, narrated training content using PowerPoint)
Running the video automatically
By default, the video will run only when clicked. If you want it to run it automatically click on the video – choose Video Tools – Playback and choose Automatically from the Start dropdown.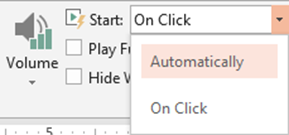 What can you control in the video
PowerPoint offers comprehensive control of the video. You can basically treat is as another shape. Change brightness or contrast, trim it, recolor it, animate it and so on. Read this article for details: Using Videos in PowerPoint : Part 1 – Quick Recap
More sophisticated recording control with editing requires Camtasia
If you want professional editing tools, annotation, webcam recording, output in different formats, hotspots with hyperlinks, output in SCORM format, you need to use a professional tool. I use Camtasia for this purpose.
***