Yes. We don't know how to open files! This is the second part. Read the first part first.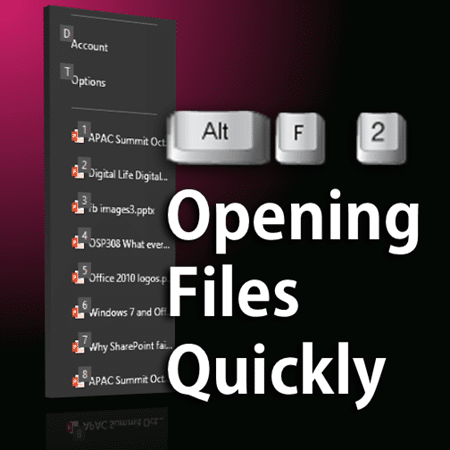 Estimated reading time 4 min
Part 1 recap
In the earlier article, we saw how to pin documents and folders, how to use Open as Copy and other options. We also covered pinning documents to the Task bar.
There is more.
All Office tools have the recent folders and file list which we covered in the article:
Have you noticed Recent File List (MRU) options?
Even if you have pinned documents to the recent file list, multiple steps are involved in opening the file. Let us count the steps.
Step 1 – Click File
Step 2 – Click Recent Files
Step 3 – Click on the required file
Yes you could do this with keyboard shortcuts as well:
Alt F to open file menu.
The O key to choose the Open option.
Recent files are shown automatically. Each file in the recent list has a number. Type that number. Probably you never noticed this.
In short we have three or four steps to follow to open a recent file.
I don't think most of us will have any issues with this method. But Microsoft wants us to be even more efficient. So they added another feature – Quick Access of files.
Recent files shown in the first screen
Since version 2013, as soon as you open Word, Excel or PowerPoint for the first time, the recent files list is shown along with templates. Many of us don't even notice it. If you find the file there, it is the quickest way. This is called the Start Screen.
Unfortunately, if the application is already open and you want to open another file, this screen is of no use.
Quickly Access files
If you remember, in older version of Office, the recent files were shown right within the File menu. So recent file number three could be opened with Alt-F 3 shortcut.
That option was lost after RIBBON was introduced since Office 2007. Or so we thought!
That option is very much there, but it is not active by default.
To activate it choose File – Options – Advanced
Scroll down till you come to the Display section of settings.

These numbers are not put arbitrarily. Those are the upper limits!
The first one is for the recent files list. The second option is very important. This option is inactive by default. Activate it and put some number there. Optimal number depends upon your screen resolution. Start with 10 and adjust later.
What happens when Quickly access this number of Recent Presentations is active?

The recent files appear in the first level File menu itself. And like the older version, these have shortcuts 1, 2, 3, 4 and so on.
After 9, the numbering becomes Y1, Y2, etc. which is not very useful. So practically speaking, 9 files for quick access is a good limit)
Files which are Pinned appear first and then the unpinned ones. Now these documents can be opened with simple shortcuts like

Press Alt F to open the file menu. Then press 2.
Don't try to press all three buttons together

For frequently used files you will subconsciously remember the shortcut.
Related Articles
How to open a file?
Have you noticed Recent File List (MRU) options?
How to open files quickly – Part 2 (this article)
***