If you use sample files and deliver demos or training sessions, this article is for you.
Often we open the demo file and it is saved with changes. This article shows you how to NEVER let that happen.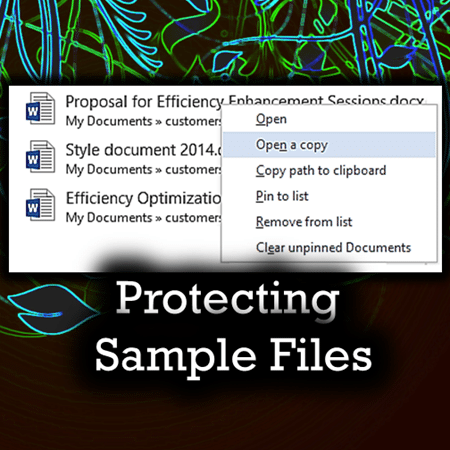 Estimated reading time 3 min
The Need
If you are a trainer, pre-sales technical person, sales person or evangelist, you need to deliver demos. I am always delivering sessions. There are lots of demo files with sample data, presentations, spreadsheets and so on.
While delivering the demo, the original file changes. Usually you don't save it. But sometimes, by mistake, it is saved. Now you cannot go back to the BEFORE state – the original demo file.
I found many ways of avoiding these mistakes. There are three ways. It depends upon where do you open the file from.
From Windows File Explorer
Zip File
File Open Dialog
File – Open – Recent Files (MRU) list
File Explorer or Zip file
Just make the files Read Only. So they will open but not save. Simple and Effective.
Same concept works with ZIP file as well.
File Open Dialog
This is a very common way of opening files. If those are read only, no problem. But if they are not, there is a better way.
Click the file – open the dropdown of OPEN button and choose Open a Copy. Simple, brilliant feature.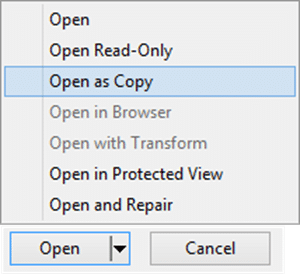 From MRU list
Nowadays, your demo files can be pinned to the File Open – Recent files list. This is probably the most commonly used method for frequently used files. How do you make a copy of the file while opening it?
Don't worry. Have you ever tried a right click there? Try it!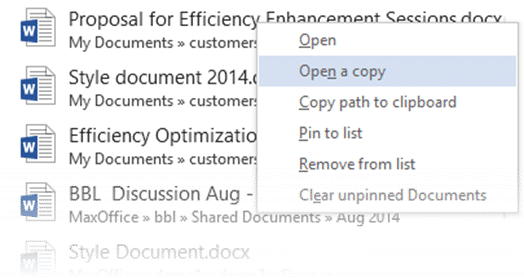 If you know any other method of protecting your sample files against inadvertent changes, do let me know.
Other uses of Open as Copy
If you want to try something new on a file but you don't want to spoil the original one, use this feature.
Another usage is that you want to remove unwanted things like notes, comments, track changes from documents before sending those to customers. But you DO WANT to preserve these things for internal use. This is when you Open as a Copy and then use Document Inspector to remove unwanted or confidential information and properties.
***